I suppose everyone at one time or another promises themselves that they will do or see some special thing before they die. We had hosted a Japanese exchange student, Yoko, in 1990. During the year she lived with us, I promised her that one day we would climb Mt. Fuji together. On a visit in 2007, Yoko (now a mother herself) asked when we might do that. I looked at Susan and then said, "How about this week?" Without showing any surprise at all, she booked our tickets and we started one of the great adventures of my life.
We had to change trains twice to reach the city of Fujiyoshida at the foot of the mountain. It took a total of a little over two hours from Yoko's home in Machida, a suburb of Tokyo.
We stayed Sunday night in a traditional Ryokan with exquisite meals and very traditional facilities (futons on the floor, sit on the floor to eat, red slippers to wear whenever you went to the toilet and a beautiful, small garden on the inside. It was a steep climb just from the Ryokan to the entrance to the trail on Mt. Fuji (although as I soon discovered, steep is a relative term and it looked like child's play compared to how steep the trail got as we got closer to the mountain.
There is a large Shinto shrine at the entrance to the trail with just enormous, old trees with trunks that must be 30 – 35 feet around.
Almost no one climbs Mt. Fuji from the bottom, so we hardly saw a soul the entire first day. The trail started out looking almost tropical with vines growing over the trail everywhere, insects buzzing, and stiffling humidity (my clothes were wringing wet within the first 30 minutes).
It was clear you were going uphill, but the first couple of kilometers were not at all strenuous. After the first couple of hours, most of the vines and tropical look had been replaced by somewhat more open deciduous forest. It was an overcast day, so not having the sun on us was nice.
After a couple of hours, the trail was noticeably steeper, but still reasonably manageable. I noticed, though, that I was walking at a considerably reduced pace!
We met Yoko, Lisa and Yoko's mother at lunchtime (there are roads up the mountain as far as station 5, and they just took a taxi). Lunch with lots of water was very, very welcome. Shortly after we resumed climbing, we began to encounter holes in the trail.
These were quite deep and intended to catch rocks, soil and leaves during heavy rain so the trail would not be eroded. They made for very difficult climbing, however, as you often could not go around them and just had to step down into them and then a big step out again. After seemingly endless hours of this, the muscles in your legs just begin to scream.
It began to rain quite hard around 4 PM, so the last couple of hours were really strenuous. We finally reached station 5 and our overnight reservation around 6:45, not long before dusk. The "room" was about 4.5 feet high, 10 feet long and 6 feet wide with one shelf and futons for the floor (this for four adults and one child). With everything soaking wet, it was an adventure for sure.
There were dozens of other people also in the "hotel" in similar rooms, so sleeping was a difficult proposition. Many people get up around midnight and climb in the dark so they can be at the summit to see the sunrise. After experiencing what the climb was like, I cannot imagine anything less probable for me, at least.
The sunrise at station 5 was really spectacular. After the rain and miserable conditions on Monday, to wake up to a clear, bright morning like this was just amazing.
The first part of the climb Tuesday morning, although steep (and more noticeable because of the thinner air at 2,300 meters/7,500 feet) was still manageable with a slow, steady pace. We got to station 6, stopped for a coke (the price of drinks was directly related to the altitude (around 90 cents at the bottom, €1.80 at station 6 and an astonishing €3.00 at the top – but when you are really thirsty, you just don't care!), and then started up the trail again. A few feet from station 6, we came to the point you see in this picture – from here on it is hand and foot rock climbing!
Fortunately, by the time we got to station 7, we were past the steepest part of the mountain and we started to have some trails again – but at regular intervals there would be stairs carved into the rock with each "stair" 45 -50 cm (18 to 20 inches) high. It was three steps and then huff and puff to catch your breath. The last of the trees and larger vegetation was just above station 5, and the bright sun and thin air resulted in a pretty good sunburn for me. The back of my hands were still peeling two weeks later!
The view, however, was just spectacular with generous breaks in the clouds that allowed you to see lakes, bridges and other cities far below. It was quite a thrill to look down and see a view that you normally only have from an airplane.
By station 8 we had already been climbing for four hours, and the top seemed still very high above us. From the point of this picture, we still had to climb the equivalent of street level to the top of the empire state building – twice! Shortly after resuming the climb from here, I encountered a man in his early 80's on the trail. He was moving slowly, but by golly he was going to make it to the top!
Somewhere around this point, I just stopped looking up and just focused on the next step, making it to the next turn in the trail. Miraculously, the shrine at the entrance to station 10 (the top of Mt. Fuji) was suddenly right in front of me. We had made it! How very Japanese that there is a cell phone relay station on the top of Mt. Fuji. Susan had headed back down the mountain after station 5 because of her knee injury (skiing, several years ago), so Yoko dialed her up so we could talk for a couple of minutes from the top of the clouds.
Somewhere around this point, I stopped looking up and just focused on the next step until I made it to the next turn in the trail. Then turn and repeat. Miraculously, the shrine at the entrance to station 10 (the top of Mt. Fuji) was suddenly right in front of me. We had made it!
The crater itself is really big and deep. No picture can really give you a sense of the enormous power that this sleeping volcano once had to eject such a massive amount of earth and rock.
We played around the rim for about an hour and a half. I got a souvenir medal at the top with the date and my initials as well as a small certificate with the date, time, and temperature.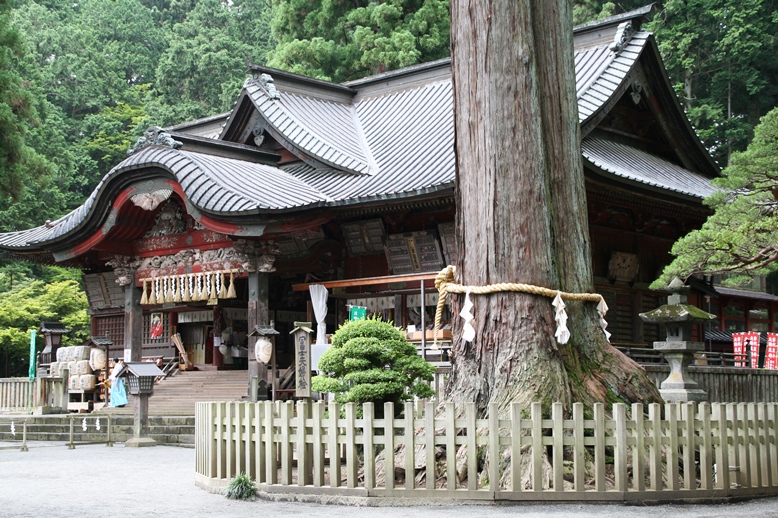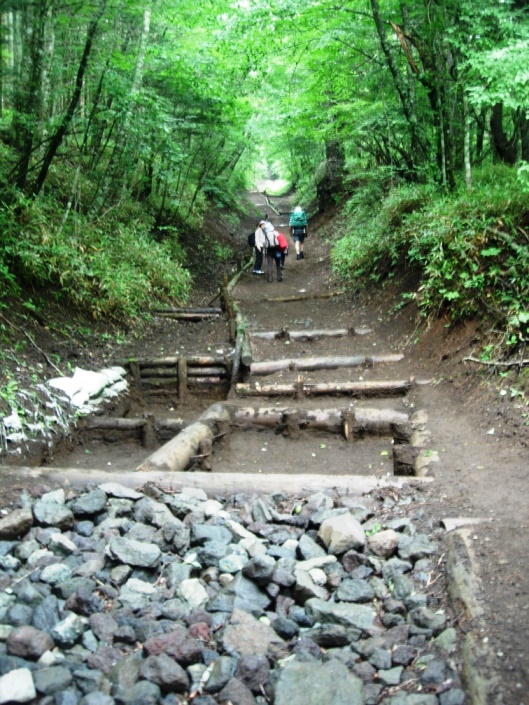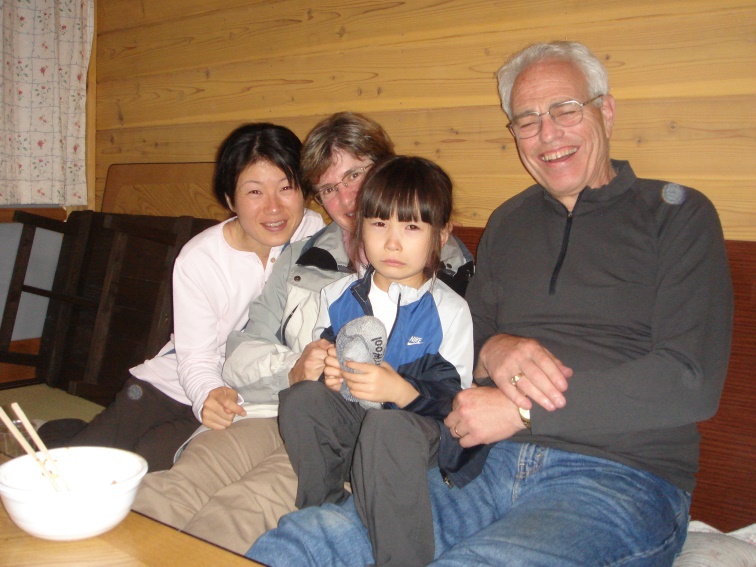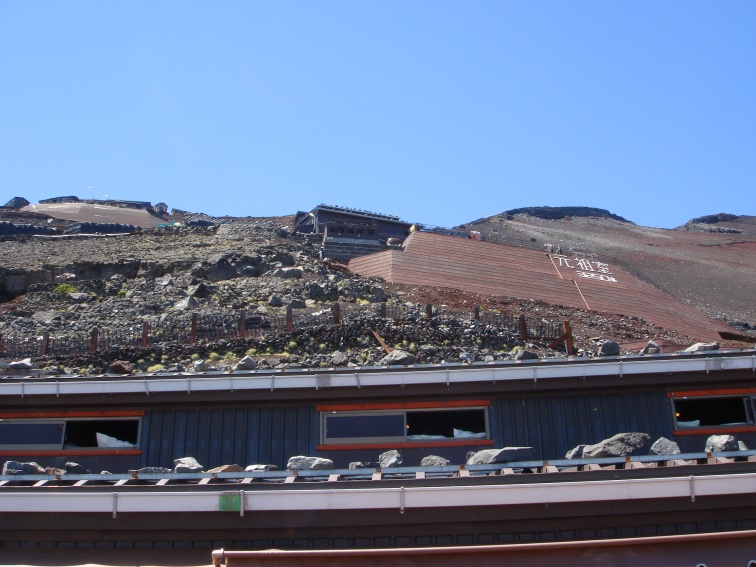 If the way up was difficult, the way down was just plain awful. No way stations to rest or even a place to sit down – just a steep, steep road (probably average grade of 30%) on loose gravel and pumice where you were in constant danger of losing your footing (I fell twice). My feet jammed into the front of my boots, each step raising blisters. My thigh muscles were screaming and burning and the setting sun reminding us that there was no time to lose getting off the mountain.
I quickly decided that climbing up was enough to "check off" my promise to climb Mt. Fuji before I died. When we finally got back to station 5 and a roadway (after almost four hours of climbing down the mountain), we got on the next bus that was headed to the bottom! My thighs were so sore that just going down stairs for the following two days was a painful process.
It is said in Japan that everyone should climb Mt. Fuji once in their lifetime – but only a fool would climb it twice. Smart folks, those Japanese!