There is something about setting off on a bicycle tour that feels wild and dangerous. It's like you are setting off into some vast wilderness, dependent on the adequacy of your planning and having packed everything you might need for two or three days into your saddle bags. Forget something and you will "suffer" for it.
I suppose that might be true if you were starting out on a desert trek with absolutely nothing between you and your destination. That was hardly the case for a tour with my good buddy Bogdan through Bad Tölz, Tutzing and Starnberg that I did in July. After all, we had booked comfortable hotel rooms for our overnight stays well in advance.
I had conceded the impact of increasing years on my endurance and leg strength this spring and bought an e-bike. I was really pleased with it as I began the break-in period by revisiting favorite routes in and around Ebersberg. Climbs that I remembered as being really strenuous the year before became delightful as, with a simple click to increase the electric boost, I effortlessly (well almost effortlessly) zoomed up the hill at 25-30 Kmh.
The day before we started, I laid everything out that I thought I would need next to the saddle bags – and quickly realized I had to choose between leaving a lot at home or attaching a trailer. I chose the former, but it must have been spiritually traumatic because I slept more than two hours later the next morning than I planned. Having to rush out of the house because I was going to be late meeting Bogdan was not conducive to being relaxed and confident!
After a delightful lunch together at a local pizza restaurant, we finally set off. The start of our journey was toward the west as we had to reach the Isar before turning south toward Bad Tölz. I had done this tour several years before and remembered a series of relatively nice bike paths with stretches that had beautiful views of the river. Bogdan, however, had his iPhone out and had selected a route marked on Google maps. He wanted to show me the old Munich airport runway that had been converted to a riding and skating park, so I agreed and followed him. Still, as we continued riding and making unexpected turns that seemed to be contrary to the route directions on some of the road signs, I started to ask a few questions.
One of the wonderful things about really special friendships is that, no matter how long you have known someone, there is always something new to discover. On the first day of that tour I discovered something new about Bogdan: don't mess with the man when he is following Google Maps! We found ourselves on dirt roads and narrow paths through the forests – some of which had deep, mud-filled puddles from a heavy rain the night before. There would be the occasional call from him to stop because we had gone the wrong way and had to go back, or the announcement that, according to Google Maps, there would be a turn onto a paved road in 200 meters. In fact, there was almost never anything resembling a possible turn within the next kilometer. 
Another wonderful thing about really special friendships is that none of that really mattered. He started saying "only 200 meters" whenever the going got a little tough and I kept repeating that "this was a completely new tour for me."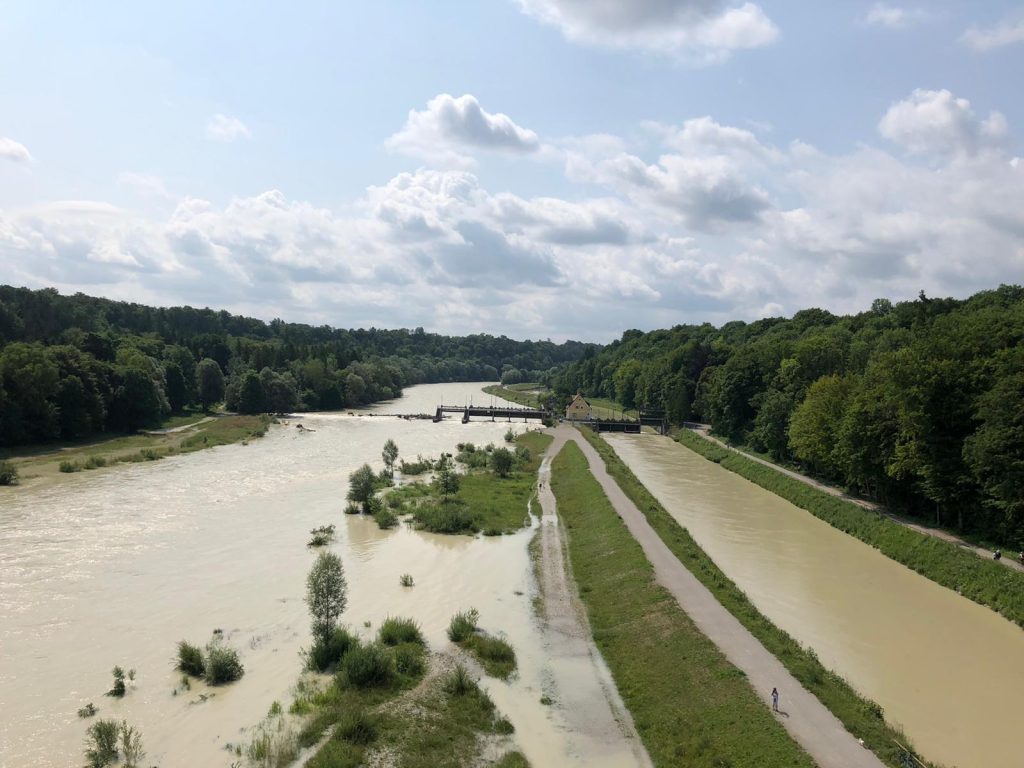 Not that this was one-sided, of course. Prior to the tour I had worried about being able to keep up (Bogdan is a bit younger than me – actually a few decades younger) so I had done a lot of riding beforehand to get into good condition and the E-bike gave me a huge advantage anyway. Once on the road, I delighted in cycling on ahead on the hills and then waiting at the top for him, huffing and puffing, to catch up. Then I would immediately zoom on ahead and repeat the whole thing. By the time we got to the end of our first day in Bad Tölz, the poor man was definitely dragging and ready for a beer.
We had decided to save some money and share a room during our overnight stays. That night Bogdan discovered something else new about me: I will occasionally snore very loudly at night. I chose that night to do so and the poor man got little sleep at all! No complaints the next morning, other than to tell me about my snoring when I asked him if he had slept well. I can well imagine, though, a private resolution he was making for our next trip together!
After breakfast we enjoyed a brief exploration of the town and its beautiful parks and gardens, then set off toward Seeshaupt at the southern end of Starnberger See.
As cloudy and threatening as the weather had been on our first day, this morning dawned with bright sunshine and puffy, white clouds against an intense blue, Bavarian sky. We of course followed the Bogdan Google Map method in selecting our route and thus saw quite a bit more of the terrain and got a lot more mud on our bikes between Bad Tölz and Seeshaupt than I had expected.
The upside, though, was that we were really ready for lunch when we got there. Parked the bikes, found a table near the water and nourished our bodies with a delicious meal and our souls with great conversation. Nearly two hours vanished before we got underway again.
We then followed the bike path along the west side of Starnberger See and found our final night's hotel on the east side of Starnberg. There was a beautiful, shaded beer garden there which we took full advantage of. I expect that the people sitting at nearby tables, if they paid any attention to us at all, would have found us a rather odd pair. There we sat, talking about music and art, what constituted good theater, and spouting quotes from Shakespeare from time to time.
We continued our never-ending conversation over dinner at a nearby Asian restaurant, then returned to our balcony where we read plays with all the enthusiasm we could muster. Can you imagine being a passer-by and hearing us reading Waiting For Godot in such a manner?
We ended our tour the next morning with a delicious iced coffee together in Perlach and a promise to plan another trip together in early September. Great memories to last a lifetime.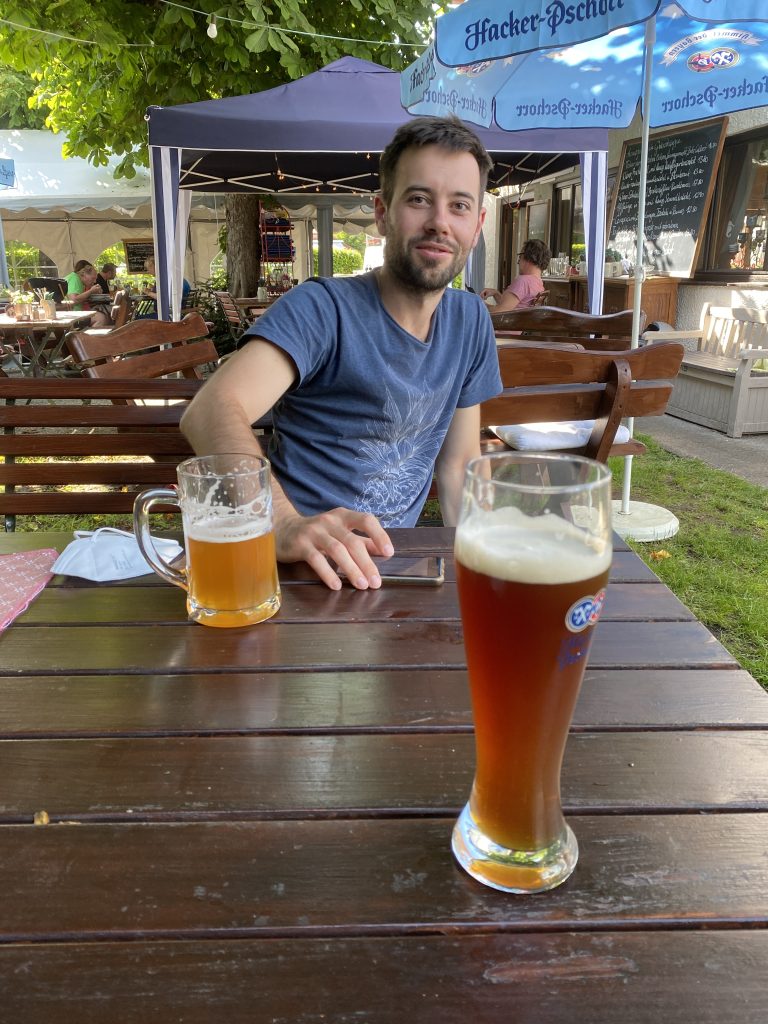 Little did I know that the very day I started writing this blog would be the day that my life would turn upside down. More here at My Hospital Adventure.