One day, I stepped off an airplane and discovered that I had been born in the wrong country, on the wrong side of the planet. Despite not knowing the language, the customs or culture, I was at heart Italian. It was my first trip to Europe, my first solo international trip. I was starting a new career, one which would open the entire world to me. Back home people were preparing to celebrate the 4th of July, but instead of finding some strategic vantage point to enjoy the array of fireworks with Roger in Denver; I had boarded a plane bound for Rome. Although a business trip, I had arrived two days early, only in part, to adjust to the time difference. I had decided to tack a few extra days onto the trip, to ensure that I saw more of Italy than the inside of the seminar room where I would be teaching.
As the plane was descending over the quintessentially Italian landscape of rolling hills, golden fields with frolicking sheep, and a small village with its towering campanile, I was already caught by the beauty of the place. The plane landed at 6:45 a.m. Equal parts excitement and exhaustion, I somehow made it through immigration, found my luggage and followed the crowd through customs. It was time to find a taxi. The instructions had been very specific: "USE ONLY AUTHORIZED TAXIS! Take only taxis stationed at the official taxi stands to be sure that you do not get ripped off, or worse." It was not a message that inspired confidence.
Once outside there were two lines at the taxi stand… ride share vans and regular taxis. The man who was sorting passengers into taxis, while making sure no one jumped the line asked, "Where you going?" Not confident of my pronunciation I thrust my instructor assignment sheet at him and pointed to the address of my hotel. "English?" he queried. I nodded. "Go with him, it's on his way," and he nudged me in the direction of a van fully loaded except for the seat next to the driver. The driver stowed my luggage in the back, helped me into the high van seat, and clambered into his. Motor running; he turned to the passengers behind us. "I'll drop her off first, she's closest," then he rattled off the order of the rest of the drop offs.
Immediately a ruckus erupted. "We got on this van first; we've already been waiting 15 minutes!" "We'll miss our train!" "I have a meeting at 11; I have to have time to freshen up!" Every single one of the six passengers vied for the pole position. I could see tension in the driver's face as he pulled from the curb.
"This is ride share," he said, "not private taxi," insisting the order was set by the logic of the route.
I cleared my throat and broke in quietly, "What if…" Then I repeated a little more boldly, "What if, you drop me off last. If I'm on the way from the airport, then it will be easy to drop me off on the way back out to the airport, yes?"
"No," he snarled, "you shouldn't have to do that, this is ride share."
"But, I don't mind, really. This would give me a chance to see a bit of Rome. It's my first time in Italy."
The driver glanced at me and his eyes glistened. "You a nice lady," was all he said, and it was settled.
No one else budged from their stance of "me first," so he just went in the logical order he had already calculated. At every stop, every traffic light, every time he was slowed by a bus or a double parked car, the would-be train passengers moaned and renewed their complaint. I think they still made it, but I had secretly been hoping that either they would miss the train by 5 minutes, or they would get there and it would be delayed 4 hours.
On the way back out to my hotel on the outskirts of the city he took me the scenic route slowly driving 3/4s of the way around the Colosseum, so I could get a good look. He pointed out the sights not to miss and which I should skip.
By 10 we were back at my hotel.  He helped me down from my perch, and held my hand for a moment and then kissed it lightly.  "If you have a night off from your work," he said brusquely, "you call me.  My wife and I, we take you out and show the real Roma."  I took his business card with his private number circled and thanked him profusely.
I pushed my way through a revolving door that liked to stick every few inches with my suitcase, garment bag and carry-on in tow.  The lobby was completely empty.  I rang the desk bell and a young man appeared. I was informed that check-in was 3 p.m., no exceptions.  I asked if I could store my luggage, and he showed me to the storage room.  I found a rack of tourist info and added a couple of brochures to my guide book and my dual language phrase book.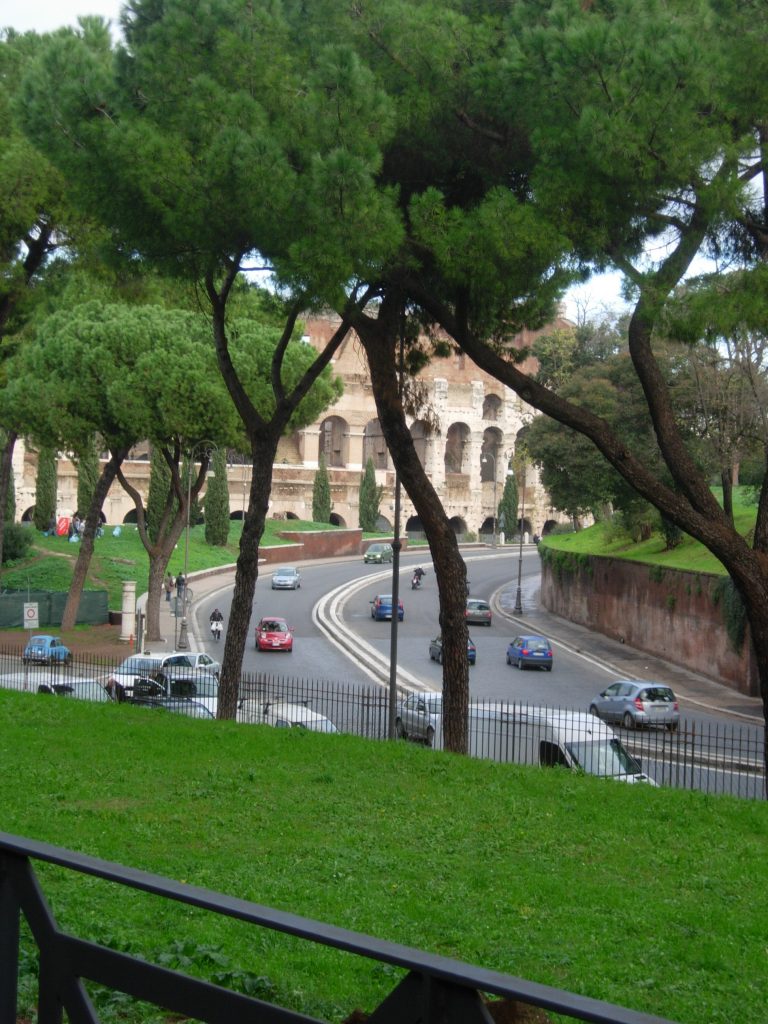 Suddenly feeling the jet lag, I asked where I could find a cup of coffee. He pointed to an empty bar at the back of the lobby. "Is it open?" I asked doubtfully.
"Yeah, sure." So I walked over and took a seat and looked at the menu card on the table. I'd had breakfast on the plane, but surprisingly, I was hungry.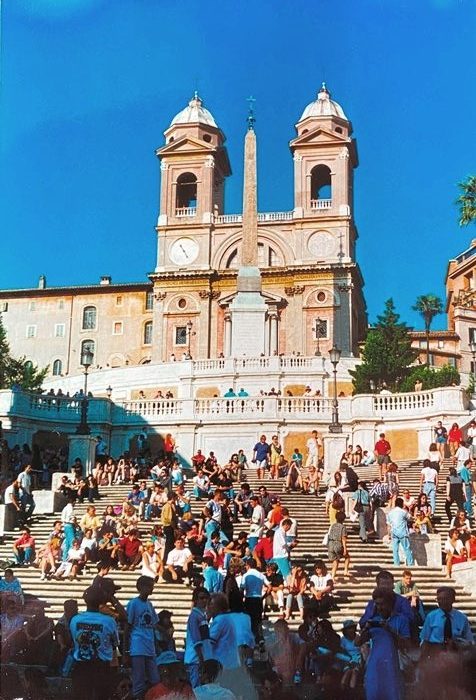 Having made my selections, I looked around.  There was no bartender, no waiter.  After a while the receptionist came over and said, "What will it be?"  I ordered a cafe latte, orange juice and a toast (toasted bread with ham and cheese). He walked behind the bar and started the espresso machine. While the coffee steamed, he poured a tiny glass of orange juice.  After delivering them, he returned to the front desk to check out a waiting patron. He doubled back to the bar and on into the kitchen.  After popping his head out of the swinging door several times to check the front desk, he emerged with my toast.
With no bed in sight for hours, I asked him to point out on my map where we were and where the Spanish Steps were.  It was a long ways, but the subway was less than a block away.  He explained which line I would need, and how much it would cost, and how to use the ticket vending machines.  Thoughtfully, he checked to make sure I had change, since the machines did not take large bills.  I changed some of my 1000 Lira notes into coins. (You needed stacks of Lire in the 1990s.  The exchange rate was approximately 1500 Lira to 75 US cents.)
After my second breakfast, I was off on my great adventure.  I entered every church I came across, frequently stunned by the beauty of the art work I found in even the smallest of them.  I walked until the jet lag caught up to me.  I had soup at a tiny hole in the wall near the Colosseum, ate tiramisu at an enormous tourist trap near the base of the Spanish Steps… perhaps overpriced, but heavenly.  Walked to Trevi Fountain and wept at the beauty of it, even as hundreds of tourists jostled me.  Around five, I knew I was about to crash so I found my way back to the subway and to the hotel.  A group of gypsies boarded  and did an impromptu performance with accordion and violin. After passing the hat, they dashed off at the next stop.
All I wanted to do was sleep, but I had promised Roger I would call to let him know I had arrived safely.  When he answered I said simply, "Hi love, I'm never coming home.  I love it here!" 
I tried to explain, it wasn't just the breath- taking beauty of the place, nor the overwhelming presence of history, culture, and art. It wasn't the warm caressing Mediterranean breezes that kept the summer heat tolerable. It was the intimacy and joy that I felt everywhere I went. It was the grace and charm with which Italians lived in the midst of this living museum.
My experience in the States had been that when in a place of historical significance, or surrounded by art, one tread gently, spoke in hushed tones, stood in awe of it all.  Here in Italy, everywhere you turned history would block your way, shush you into silence.  Instead the Italians embraced the history, the beauty, but relaxed into it as if it was their living room.  Drifting off to sleep after hanging up, I thought, "Oh no, I didn't toss a coin into Trevi Fountain.  I knew somehow I had to make it back there to toss my coin before I flew home. That first day was only the beginning of a magical ten days. I will say more about my experience in my next post.