Susan and I have made it a priority over the past few years to go on longer walks every day as a way to get regular, low-impact exercise that will maintain our muscle tone and cardio fitness. It's also a way to spend time together in nature and discover more intimately the beautiful area where we live. We have several different routes that we follow regularly, always enjoying the shifting colors and appearance as the seasons go by.
One of these routes goes by a playground, almost always filled with noisy kids, their parents standing around in small clusters and chatting with each other. The walkway ends with a set of stairs leading to a small street that runs by the old Catholic church and a large cemetery.
I was walking this route a few days ago with Lilly. I wasn't in any particular hurry, so I stopped to look at the glass covered display next to the church entrance where cards with a picture and the life-dates of parishioners who have recently died are posted. Some were only in their 40's or 50's, but most died when they were past 70 – an age where we often say something like, "Oh, they had a good, long life."
As I studied one card after another, I started thinking about how curious a lifetime is when viewed at a distance. You have a couple of dates – the dates of your first and last breath. Yet these "bookend" dates really have nothing to do with defining a good or a wasted life. What really matters is what each person did during the years in between. Was it all about money? Fame? Or was it about love, relationship and caring for others? The announcement cards said nothing about any of that.
Lilly and I continued on our walk, walking past the walled cemetery to another steep incline that climbs up the surrounding hills to another residential area. Today I turned around after climbing high enough to see over the brick wall and looked back at the expanse of graves, each marked with a large, engraved tombstone.
I looked more closely at one of the family tombstones that was near the corner. It was an impressive chunk of rust colored marble with the family name "Leitner" in twelve centimeter high letters. Then, underneath in smaller letters, was the husband's name – born in 1903, died in 1966. Underneath that was the wife's name – born 1905, died 1999. Then a larger space, as though left waiting for yet another name, followed by a woman's name, also a Leitner – born 1925, died 1979. All bookend dates. Did they all have a good life? What happened in between those dates?
A shadowy family story formed in my mind. A husband born in just the right year to be too young to have been part of the Kaiser's army in the catastrophe of the first world war and too old to be sucked into the Wehrmacht in World War II. It was young love, he but twenty or twenty one and his bride who was barely 18 when they married. They had their home right here in Kirchseeon and rejoiced when their daughter was born just a year later.
How did they deal with parenthood? What sort of career did the father have? Were there more children? The space on the tombstone suggested there might have been one, yet it would be unexpected that another child would still be alive.
Or perhaps it was a difficult birth and it was the only child the mother was able to have. Perhaps the passion cooled and they were not interested in having more children. Did the daughter go on to have a happy marriage and a full and satisfying life? Did she give her mother the joys of grandchildren? Or was she the classic spinster school teacher who remained unmarried? The tombstone was silent.
I calculated the age of the father when he died – too young at 62, some might say, to have had "a good, long life." How did he die? Heart attack? Accident? Or was it a long, drawn out affair where he had to deal with the knowledge of impending death? Did he choose to still have happy and fulfilling last days? The cold, dark colored tombstone reveals nothing except that the mother and daughter were left to make their way in the world without their husband and father. He was too young to die, they both probably said.
Then the daughter died at the even more absurd young age of 54, leaving the mother alone at 76 to carry on. Did she have friends, at least, to sustain her in her grief? To drink tea or coffee with her on those cold winter nights? To help her buy groceries, change her sheets, and bring her the medicines she needed to deal with the increasing infirmaries of her aging body? I can only hope so. This is Germany, after all, and for all the struggles the country has been through, Germans try very hard to make sure everyone has a decent quality of life right up to the end.
How did she deal with the last years of her "long, full life"? Did she fill them with the joy of helping others, widely admired as living life fully and productively? Or did she just sit during her last years, staring out a window or at a faded picture of her family on the old bureau and wondering why she had to be left alone for so many, many years?
Now all that is left of her are these names on a tombstone in the corner of the churchyard. There are no flowers, no suggestion of any visitors any time in the recent past. So I continue on, walking toward my final date. I feel blessed by this reminder that it is up to me to determine whether I lead a full and satisfying life in my remaining days – and that it will be a choice that I must renew every day.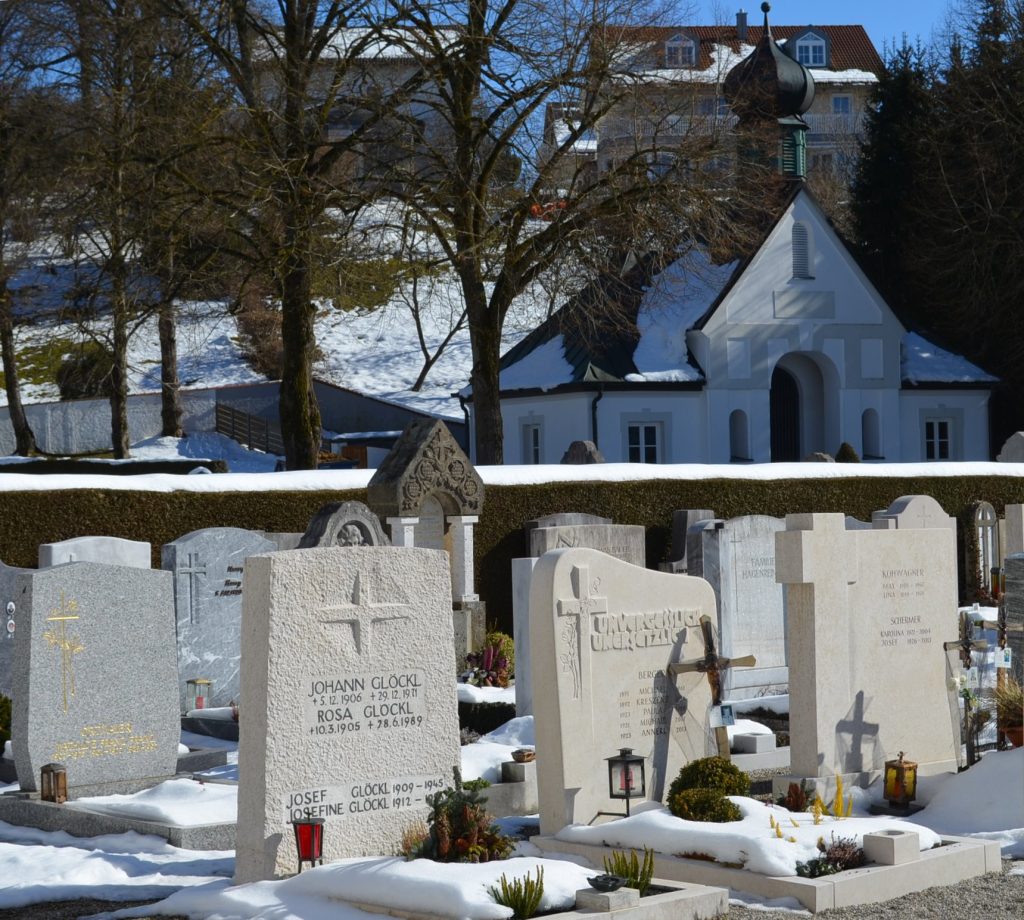 I bow my head in gratitude for the time I spent today with the Leitner family.